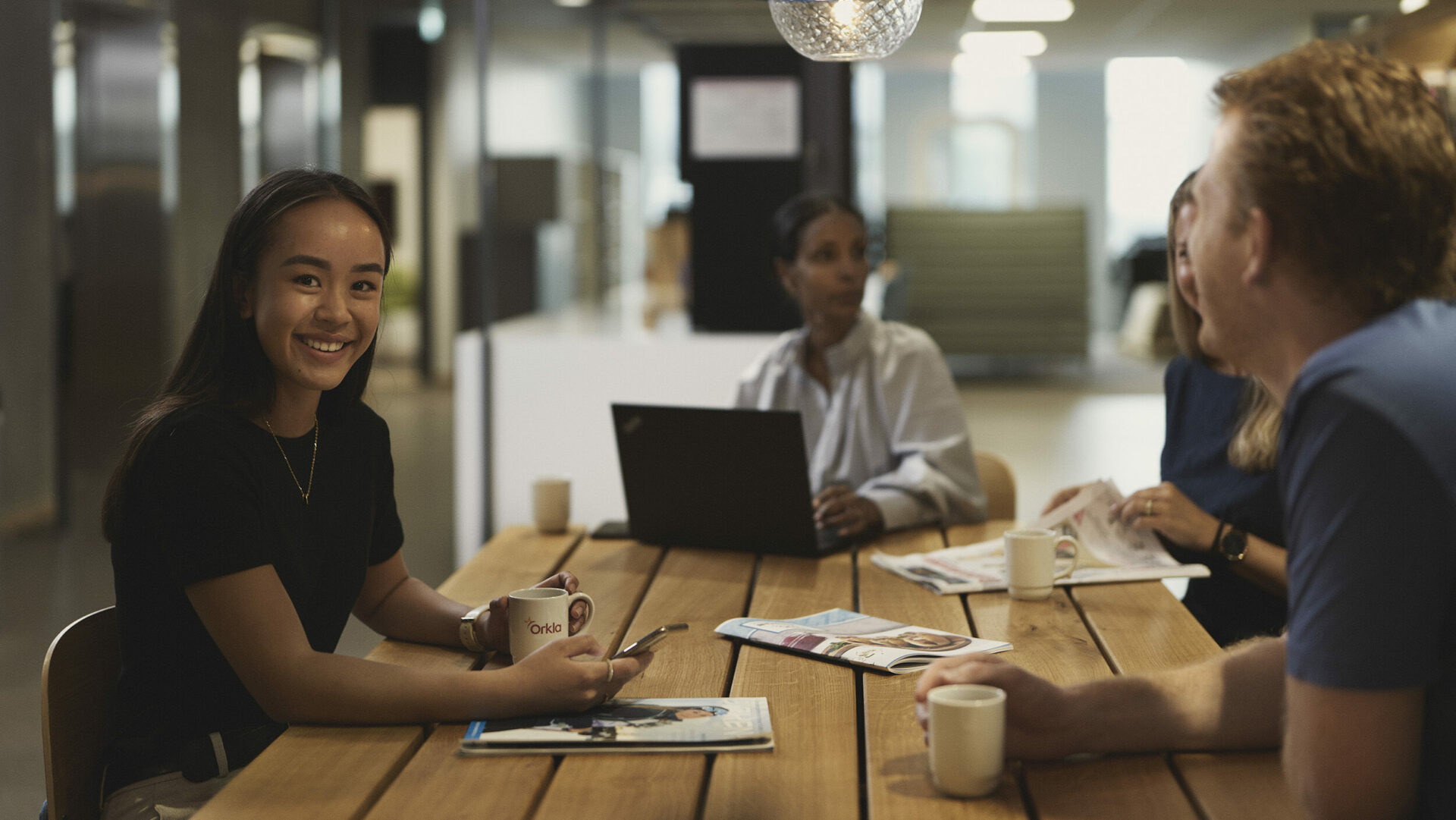 Young Professionals
Start your career with us
Orkla's infancy began in 1654. Since then, Orkla has developed into one of Norway's largest companies. This could not have happened without inspired, brave and knowledgeable people. We are looking for people who want to make their mark on how Orkla develops into the future.
With us, innovation and development are important key words. We believe that as a recent graduate you are part of seeing brands, the way we work and how we can adapt even better. At Orkla, we can provide you with an exciting workplace in all our departments working to develop our company, and you will get great follow-up. We can also offer you several job prospects and countless growth opportunities across national borders.
Education is important, but we also want you to identify with our values: brave, trustworthy and inspiring. By choosing us, you will have the opportunity to challenge yourself every day. At the same time, you get the chance to leave your mark on the company for years to come.
We are looking for people who are motivated and want to be part of a large international system.
Frequently asked questions
While you are in education, you have the opportunity to participate in projects with us over a shorter period of time. In this way you can get a good insight into what working life is like, knowledge of what you would like to work on further or just understand the differences between student life and what your working life might look like. In addition, there are opportunities such as internships and summer jobs.
Internship:
We offer a number of different internships in many of our departments. You can read more about internships at Orkla here.
Summer job:
A number of summer jobs are advertised every year. If you are looking for a summer job at one of our factories, we advise you to contact the factory directly. Any summer jobs at our head office will be announced via our career pages.
Some of the positions we have for graduates:
Brand Manager in various departments
Project Analyst in Production, Strategy & Development (PSD)
Production Trainee (Only in Norway)
Financial Controller
IT Young Professional
We are flexible when it comes to background and education, and always look at the complete picture. Some of our positions require four years of higher education or a master's degree, while others put experience ahead of education.
We often seek candidates with a background in IT, business, civil or industrial economics, strategy, HR, food science and sustainability.
We operate mainly in Scandinavia, the Baltics and Central Europe. If you wish, there are opportunities for working in other countries. We don't have a formal programme for this at the moment, but we are working to make it easier. A number of employees who have had the desire to work in other countries have been given the opportunity to do this.