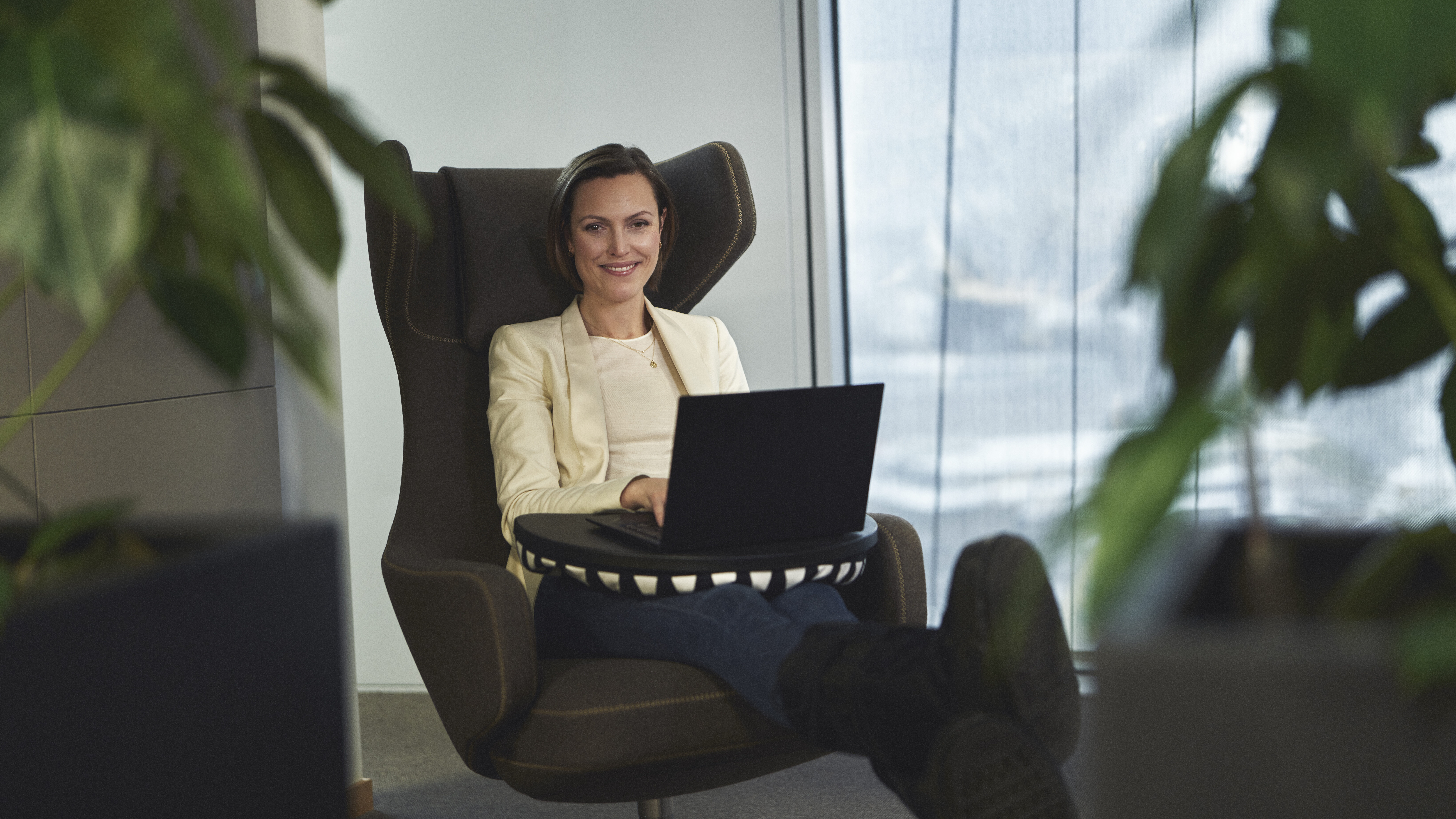 Marketing Manager Anne Valerie Solhaug – You can never get enough cod liver oil
"You have to love the brand that you're working and have an inbuilt drive to find the best solutions for the consumer," says Anne Valerie Solhaug. She's not afraid to take too much Möller's cod liver oil.
Cod liver oil. Ever since the middle of the 19th century the golden oil that comes from northern Norwegian cod, jam-packed with healthy omega-3 and vitamins A, D and E, has enjoyed a natural place in the diet and awareness of Norwegians.
"Here at home we're almost born with cod liver oil," says Anne Valerie Solhaug, the Marketing Manager of Orkla Health's largest brand. She is responsible for the brand's performance and product sales in Norway, which is the largest market for Möller's. This involves both strategic and operational tasks. She identifies the development opportunities which apply to the brand and its products, assesses profitability, draws up plans, collects and analyses data and insights and creates new innovative and/or communication concepts, etc.
Anne Valerie also ensures that the Möller's brand is properly managed on the international market. Möller's is sold in the Nordic and Baltic countries, Poland, Greece, Romania and Turkey. A number of other countries are also reached via various sales outlets such as Amazon.
Facts
Name: Anne Valerie Solhaug
Position: Marketing Manager
Department: Marketing at Orkla Health
Employed by Orkla since: March 2014
Anne Valerie's best advice for anyone wanting to work for Orkla: "Have an opinion about what really motivates you. Emphasise how you can benefit the company in terms of value and expertise that would be relevant to the company and the position you are applying for. When you're doing something that genuinely motivates you, you produce results, have fun and learn things while you're working."
Passion for the brand
"In practice my extended responsibility means that I have contact with brand managers in each country and I help to develop the brand in our various markets. Here at home everyone knows what Möller's cod liver oil is, it's part of our cultural heritage – and many Norwegians have childhood memories that are associated with our cod liver oil. It is unique and consequently there is lot of pressure on us to manage the brand is a satisfactory manner," says Anne Valerie.
"«Did you take too much Möller's cod liver oil?" Most Norwegians are familiar with this expression which was first coined in 1992 and has now become associated with having good health and strength.
"For me, it's all about giving a bit too much of oneself, in a positive sense. A consumer might only spend a couple of minutes a day on a brand. But for those of us who work with branding, it's 24/7 – that's why we need to have a passion for a particular brand and be visionaries."
And Anne Valerie is definitely passionate about Möller's. She speaks breathlessly about how strong the brand is, about the health effects of the products and about how she loves working with the brand alongside her skilled colleagues. One of the things that attracts her about Möller's is the different positions that the products have in different markets:
"We are market leaders in Norway and continuing to develop the brand is tough when you already have such a high percentage of the market. Constantly having to think innovatively while simultaneously adopting the attitude of a challenger is an exciting challenge in its own right. In other countries, where competition and market conditions are different, we need to adopt a different approach. because then it's all about making the brand known and creating strong, relevant associations through our products and by communicating."
"In many countries outside the Nordic region we sell Möller's products through pharmacies, i.e. both liquid cod liver oil and capsules. Consequently we need to build brand credibility by providing professional, knowledge-based information about the health effects that can be attributed to our products. We combine this with making associations with other Norwegian qualities such as purity and high quality raw materials."
International dimension more attractive
Another important thing for Anne Valerie is the international aspect of the job. Before joining Möller's she used to work for Jordan which, alongside Möller's, is Orkla's most international brand.
"The international dimension is important for me. I am learning a lot from dealing with cultural differences, different market constellations and other ways of doing things. In order to succeed you need to be humble and listen and have a genuine desire to understand the differences – but you should also not be afraid to be challenging. So it's exciting to discuss and lock horns with different marketing managers about how to tackle various market challenges. Sorting out an issue in Norway is not the same as sorting out an issue in Sweden or Poland," explains Anne Valerie.
In 2019 she was the Marketing Manager of Orkla Health for the Polish market and she lived in Warsaw both with and without her family during the course of the year. She says that she learnt a lot from her stay:
"The market dynamics are completely different in Poland. Poles are much more clued up about lists of ingredients than Norwegians and they are very up to date on dietary supplements in general. They have great confidence in the trading community and become more involved than we do here at home. They also have more advertising for medicines and supplements than we do here. Working our way into different markets and cultures provides me with perspectives and lessons and that made it more attractive for me to be in Poland, " says Anne Valerie, adding that she would probably go abroad again if another opportunity was to present itself:
"I would love that – preferably in a French-speaking country because I am a Francophile. However, there are some people at home who would need to be persuaded too."
Great development opportunities
Regardless of whether or not she goes abroad again or stays closer to home, Anne Valerie is discovering that Orkla has some great opportunities available for undertaking new assignments:
"In fact there are a whole host of opportunities available here. One of the unique things about Orkla is that the group consists of several business areas with their own respective companies and these represent the entire value chain – from sales and marketing to operations and finance, etc. You can therefore develop both horizontally and vertically within your specialist field, as long as you deliver results and have the right attitude and skills."
My tip is: don't be afraid to say what you want, as long as it's in line with the company's requirements, and benefits both you and the company.
Anne Valerie is a perfect example in this respect. She was recruited as a brand manager in 2014 for Jordan. Over the years she has risen through the ranks and has held five different positions in two business areas in the group (Orkla Home & Personal Care and Orkla Health).
"I'm not afraid to take responsibility. Furthermore, I have made it clear to my managers what I like working with and that I am happy to take on new assignments. My tip is: don't be afraid to say what you want, as long as it's in line with the company's requirements and benefits both you and the company. If your company and manager know what motivates you, it's easier for them to accommodate you. It also means that sometimes it's a good idea to be willing to take on different roles that you may not necessarily have thought about, because then you can boost your expertise."
Strong trade environment
"So what kind of qualities are important in a job like yours?"
"There are many! You should understand business, be analytical and creative and have a passion for branding and consumers. So the ability to cooperate and implement things is extremely important. You need to be able to translate plans, ideas and strategies into specific measures, otherwise you would only be doing half your job. Ultimately we are employed get things done and producing results."
"How do you experience Orkla as a workplace?
"I really enjoy it and I'm usually met by positive energy when I come to work. I have a lot of freedom and I get to work with pleasant, skilled colleagues. Orkla's strong trading environment and its considerable marketing expertise were some of the most attractive things about the group. They also offer various courses which are a great benefit. I am very sociable so the coronavirus has been very challenging for me. However, at the same time I'm more creative when I'm not at work. All my ideas about new concepts have come to me in my spare time. And it's often the case that if you're passionate about the brand then you take it home with you."