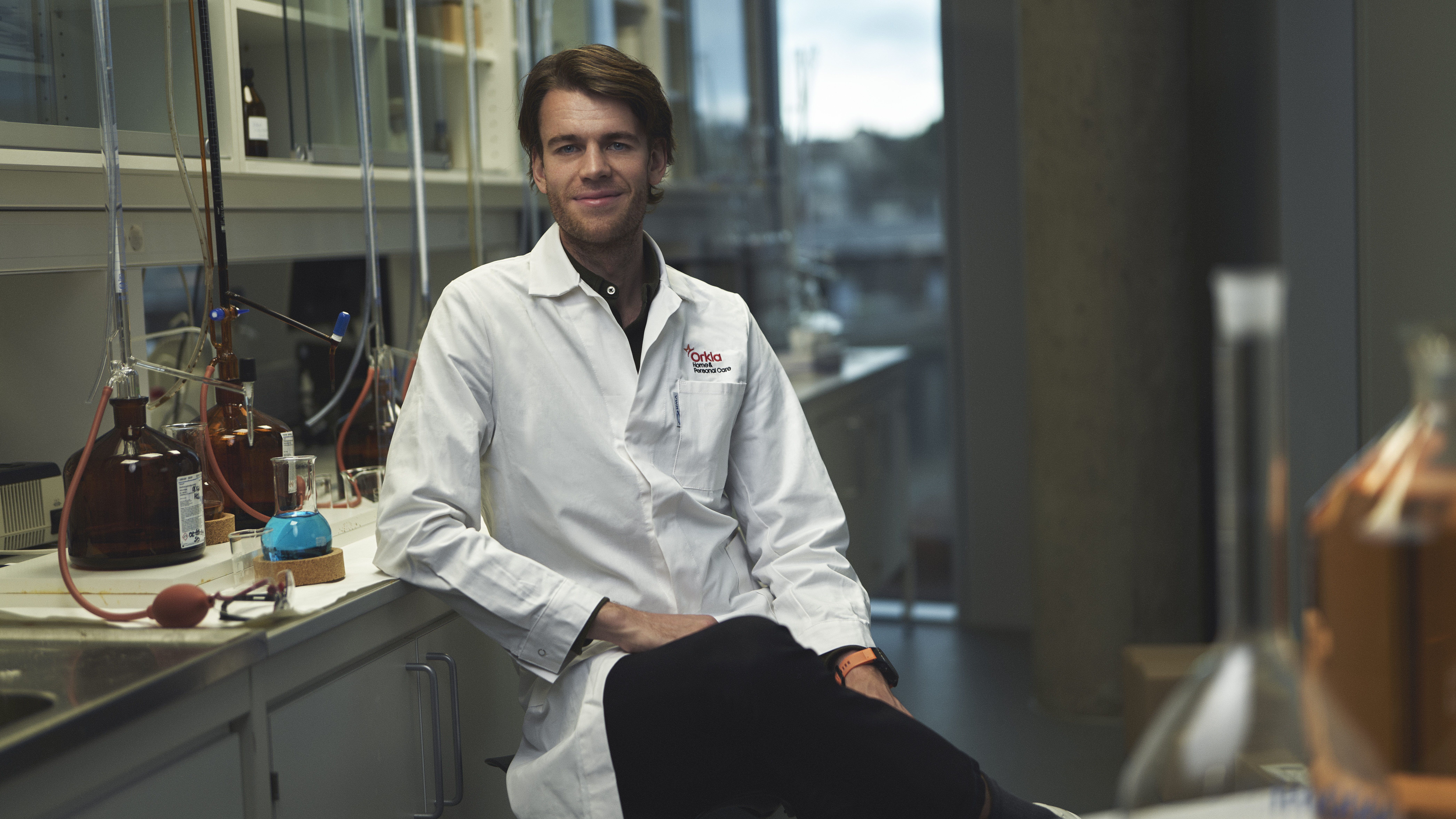 Product Developer Simen Liberg Tronsaune – Great chemistry at work
"If you're enthusiastic, curious and want to solve specific problems, then Orkla might be a good place for you." This is the opinion of Simen Liberg Tronsaune, who makes use of a lot more than just his chemistry skills at work.
Facts
Name: Simen Liberg Tronsaune
Position: Product Developer
Department: Orkla Home and Personal Care
Employed by Orkla since: May 2019
Simen's best advice for anyone wanting to work for Orkla: "I believe Orkla is a fantastic stepping stone for taking us into a world where we can develop professionally, in an environment which focuses on understanding consumers. However, it is also an environment where innovation, technology and professional strength are becoming increasingly more important. If you are curious about what Orkla can offer you and your expertise – please contact us!"
When Simen L. Tronsaune is at work, his work gear often consists of a white laboratory coat, protective goggles and gloves. He is surrounded by bottles, jars and other containers and he has access to a range of raw materials and chemicals. Glass dishes and tubes of various sizes are ready for use and for mixing purposes.
A product developer like Simen spends many days at Orkla's laboratory in Skøyen during the course of his working year. And this particular laboratory has another specific ingredient: The Blue Book, which is a chemistry book that has "always" been there. It was previously used a lot as a reference work by Lilleborg and the company's developers. Today we mainly make use of courses, seminars, in-house training and, not least, digital tools in order to study, innovate and create new sustainable products that will secure the future of Orkla Home and Personal Care," he says.
Wanted to work in a team
Simen, who has a background in industrial chemistry and biotechnology, started working as a product developer for Orkla in 2019. He had previously been a research scientist at the NTNU (Norwegian University of Science and Technology), where he searched for new sustainable ways of producing antibiotics by using so-called metabolic profiling of several types of bacteria.
"It was an interesting position, but it involved a lot of solo work. I like solving things with others and when I accidentally discovered a vacancy as a product developer at Orkla, I applied for it. Here at Orkla we work in teams and each team always has an interdisciplinary composition. I am a so-called in-house formula developer, which means that I am responsible for the chemistry of our products," says Simen.
Here at Orkla we work in teams and each team always has an interdisciplinary composition.
"Are you just developing new products, or are you developing and improving existing products as well?"
"We're always working on both. We usually divide them into categories such as innovations and operations, although operations often includes a considerable amount of innovation.
And although Simen and his teammates are working to improve existing products, they usually have to go through the same processes as those that would apply to a new product.. This involves testing different compositions of the raw materials in order to see how well the products perform and how long they can be stored for. After that they need to be correctly packaged and labelled so that consumers know how to use them. This just covers a bit about what a product developer's job involves.
Sustainability as a guiding star
It's quite possible that you will have some of the products for which Simen is responsible in your own cupboards at home. He is actually responsible for the Jif range which consists of a wide range of home cleaning products – for kitchens, bathrooms, toilets, floors, ovens/grills or anywhere else with a sink.
"Lately I've been working a lot on Jif scouring cream which has recently been relaunched. We have now moved our production operations back to Norway and have simultaneously revamped our whole recipe for this cream. This means that we are able to make our production operations more environmentally friendly, but not necessarily cheaper," he points out. And at the same time he provides a hint about something that places his job in perspective: namely cost optimisation.
"That wasn't a term that I used when I was a student, but here we have to relate to what we do and understand the whole picture. We need to find a good balance between performance, shelflife and price – and at the same time take into account the sustainability of everything, including the social, financial or environmental aspects of the term," he says, and elaborates:
"One of the most rewarding things about this job is actually having the opportunity to develop new, innovative products that are sustainable and in line with international sustainability and climate goals, while simultaneously avoiding compromising the efficiency and simplicity of the products themselves. It's both challenging and exciting to see the combination of these two aspects, and that's the kind of thing that piques my curiosity."
Would like to influence consumers
Specifically this may involve finding good, renewable alternatives to fossil, petroleum-based raw materials:
"I know a lot about renewable resources such as forests and timber and I have specialised in biotechnology – so I understand the chemical aspects of this picture well. We would like to use local raw materials and we are working on many exciting projects in order to utilise the resources available in Nordic forests and along the coast of Norway. But our job does not just involve ensuring that new raw materials are as efficient and as durable as the old ones. The price of the raw materials also needs to be balanced and I have to take that into account."
"Is it possible to obtain all your raw materials locally?
"No, unfortunately it isn't. But we're doing our best. First, we see what is available here in Norway as well as in Sweden and Finland. Then we look at the European market, followed by the American one. Sometimes Germany is further ahead on sustainable technology than Norway. In such cases we have to undertake an overall assessment of what creates the most value overall. I am proud to say that many of the 40 products I have worked with have become better from a sustainable point of view and that I am consequently helping to help push consumers in a sustainable direction – without them really noticing."
Many in-house opportunities
"You work with cleaning agents – or to put it simply, soaps. In recent years, a major competitor has emerged: microfibre cloths. Once and for all: which is best: microfibre cloths or soap and water?"
"We actually recommend a combination of detergents and microfibre cloths. If you are going to clean something using just a microfibre cloth, you will need to do a lot of scrubbing and that can have a detrimental effect on the surface in question. We believe it is better to use chemistry – and not necessarily such harsh chemicals either if you want to remove grease or other unwanted residue and dirt that is difficult to remove over time."
With Orkla I can see that there is plenty of room to develop skills and knowledge within the company framework.
"Speaking of time – where do you see yourself in five years' time?
"I'm not quite sure where I'll be in five years' time, but I still think that I would like to gradually become more involved in project management. So far my work has been very practical and specific and I have learnt a lot about the actual products. Managing innovative processes would be a natural next step. Or, maybe move across to another part of the group. There are many in-house opportunities – and I would like to be involved in working more across the board. I think the commercial aspects also sound fun, i.e. developing customer relationships and not least concepts rather than individual products. With Orkla I can see that there is plenty of room to develop skills and knowledge within the company framework. And it would be really nice to be involved in developing society at the same time and lead us in a sustainable direction."